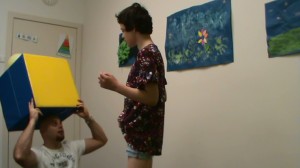 We've had a couple of good days this week. Yesterday we had a busy one. Beth had her Secret Santa in the morning at school so, although it was a Sensational Kids day, I dropped her at school then dropped Bridie at kinder and went and picked Beth up after her Christmas present draw. She was very pleased with her booty, a cute little unicorn and a giant pen. We then went for the obligatory hot chocolate at Green Bean (what have I started!) We came home for a short while and then set off for Sensational Kids in Ormond.
I spoke to Melinda (OT) about the How does your Engine Run program. I feel bad now that I had said I was a bit peeved with her because she said that she has in fact been trying this method with Beth but she doesn't 'get' the concept behind it. When Melinda asks Beth if her engine is running too fast or too slow, Beth doesn't understand. Mind you, if I'd known that she was trying these strategies then I could have modelled them at home, therefore teaching Beth what it actually means. It is a confusing phrase if you don't understand. I can now say to her "your engine is running slow Beth, maybe you need an apple" or perhaps it would be an activity like bouncing to rev her up. I can say of myself that perhaps I need a cuppa because I'm feeling a bit sluggish so my engine must be running slow. The whole point of the program is for the kids to recognise when they need stimulation or calming down so if she can't get past that one step, she can't continue with it. I came in on the tail end of the session and Beth wasn't being terribly cooperative.
Speech is the one that always gets to me as Beth responds so well to Rod. Yesterday's session they decided to play charades. Beth couldn't get past when she played charades at camp and kept trying to make all the answers into either a movie, book, tv show or song. Or she'd just make something up. The picture above stemmed from her doing up her shoelaces. It turned into hair ribbons, then how Rod could have hair ribbons as he is bald. Beth suggested that his hair was blue and put the foamy cube on his head. She used a balloon for a scrunchy and they pretended to draw glasses on him so that he looked like his wife Lorette. He works with what Beth wants to do but always makes her work for everything. As last time, Beth's reward was to be carried into the big gym. She had no problems this week with telling Rod exactly what he needed to do. She learnt that lesson last time, it's there in her brain now, let's move on.
It's funny how Beth has the most difficulty with the easiest concepts. Rod was modelling injecting himself with insulin. Now the whole thing was probably a bit advanced but the needle going in was quite obvious. Beth knows what a needle is but she kept saying things like "you're pinning yourself" or "you're sewing your arm." I'm not sure if she was getting a needle confused with sewing in her mind. Even when we brought the scenario of going to the doctors into the mix she said that was so that the doctor could take the pin out of the arm. When she just doesn't know she tries to change the subject to avoid it being too hard but Rod always pushes her gently with hints and she gets there in the end.
Today was the last day of school for the year so the kids had to be picked up at 1.30pm. Last night was meant to be the Christmas Carols but it was bucketing down so the carols were sung at school during the assembly at 12.45. They were lovely carols as usual and the assembly was very emotional because not only were a couple of the teachers going on leave for a year (both being my kids ones – should I be paranoid?!), but it was the last assembly for the grade sixes. All the years did their songs and then the choir had a Christmas song to sing. Well Bethie decided that she was going to sing this time. AND she had a little bit of a solo with a few la la la la la's! It seems that Joyce, the piano teacher, usually accompanies them and does a little tinkle on the keys at this stage of the song. (Musically of course.) Liz who is the choirmaster I guess you'd call her was improvising and making the tune herself when Beth started doing it too. Liz kindly gave this duty to Beth and she ran with it. I'm not sure whether that's what made her sing the rest of the song but it was so lovely to hear. She's actually got a very nice voice when she chooses to use it. Tanya was so lovely after all the singing. She thanked all the children for doing such a good job and made a special mention to Beth for such a fabulous effort she made. It certainly brought a tear to my eye and as I looked down at my friend Bec I saw that she had a wee tear too. It's all worth it at times like those.